A refreshing approach to beverage brand journalism
2021. New year, new us. 
Forget dry January. Bring on the total brand overhaul. While we've cherished the MittenBrew handle for nearly a decade, we're excited to usher in the next era for our outlet with a new name and a new focus on elevating our standard for how the industry's stories are told.
Say hello to "Drinkible"—a twist on that most sought-after quality of a craft beverage. We're all about the drink in your hand. The drink that accompanies life's celebrations, hardships, the ordinary days. We live for the conversations that spark from good company and good drink. The friendships forged in breweries and bars that color life with meaning and good old fashioned fun. We're here to make a splash in your newsfeed with a refreshing take on craft beverage news. 
Truthfully, this name change has been a long time coming. We're grateful that our friends over at The Mitten Brewing Company have been cool about the similarities between our names, but with the persistent mixups, it hasn't been easy fitting us two in one Mitten. 
We've been hard at work on this update and we've wanted to share the news for a while, but to no one's surprise, smack dab in the middle of a pandemic didn't feel quite right. While we're not in the clear of COVID yet, the light at the end of the tunnel looks brighter and we can't wait to clank some pints on the other side of this thing. 
With our change in name, we've had the chance to reflect on our past and contemplate what's next. MittenBrew was founded back in 2011 by Bryan Esler as a beer blog covering a rapidly growing craft beer industry in Michigan. Back then, our state was a nexus for the craft beer movement when it was picking up steam. Those nine years feel like a lifetime.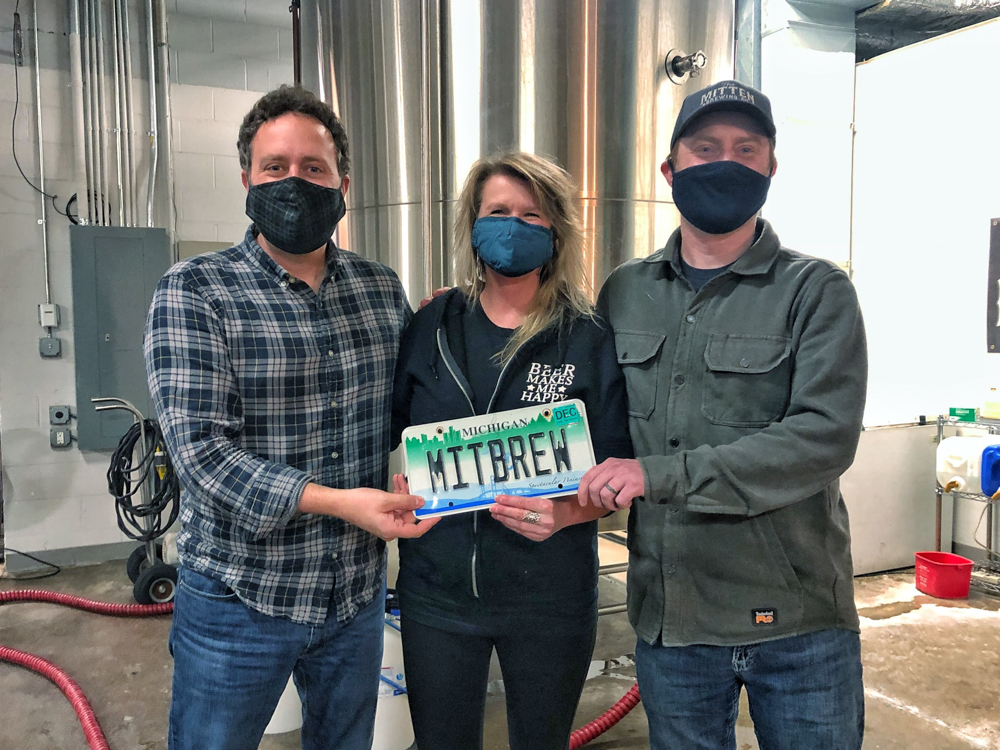 As the craft beverage industry has ballooned, the content we produce has broadened beyond what's captured in the "MittenBrew" title. The geographical reach of most Michigan beverage makers now extends well beyond state lines, and most modern draft lists feature ciders, seltzers, wines, spirits or some combination of the sort. We'll never forget our roots in the Mitten, but with Drinkible, we're making room to enjoy it all.
We'll continue publishing in-depth stories covering the people and places that make our craft beverage scene awesome but we're also busy behind the scenes. When Steph Harding took over MittenBrew in 2015 she helped transform the publication into a multifaceted media company, handling photography, press and digital presence-related needs for Michigan breweries. With a knack for crafting hyperlocal, personalized messaging, Harding has a keen eye for translating a brewery's vision to the public writ large. 
Drinkible is here to assist craft beverage makers expand their audience and build connections between people and a beverage that will enhance their experience, wherever they are. We take pride in our relationships with craft beverage makers around the country. We're cheerleaders for all the friends we've made throughout our adventures, supporting their quality products with the attention they deserve. Call us the patron saints of Craft Beverage. 
To our longtime readers, thanks for sticking it out on this journey. We appreciate you more than you know. To the newbies, won't you join us for a round? We think we're a pretty fun bunch and we promise, we drink well with others.